The varroa destructor. An external parasite much like a tick, which attaches itself to its host, an adult honeybee or developing bee larvae, and feeds on the hemolymph. The results are deformed bees, reduced lifespan and possibly death to the
colony. Would you know a varroa mite if you saw one?  What would you do about them?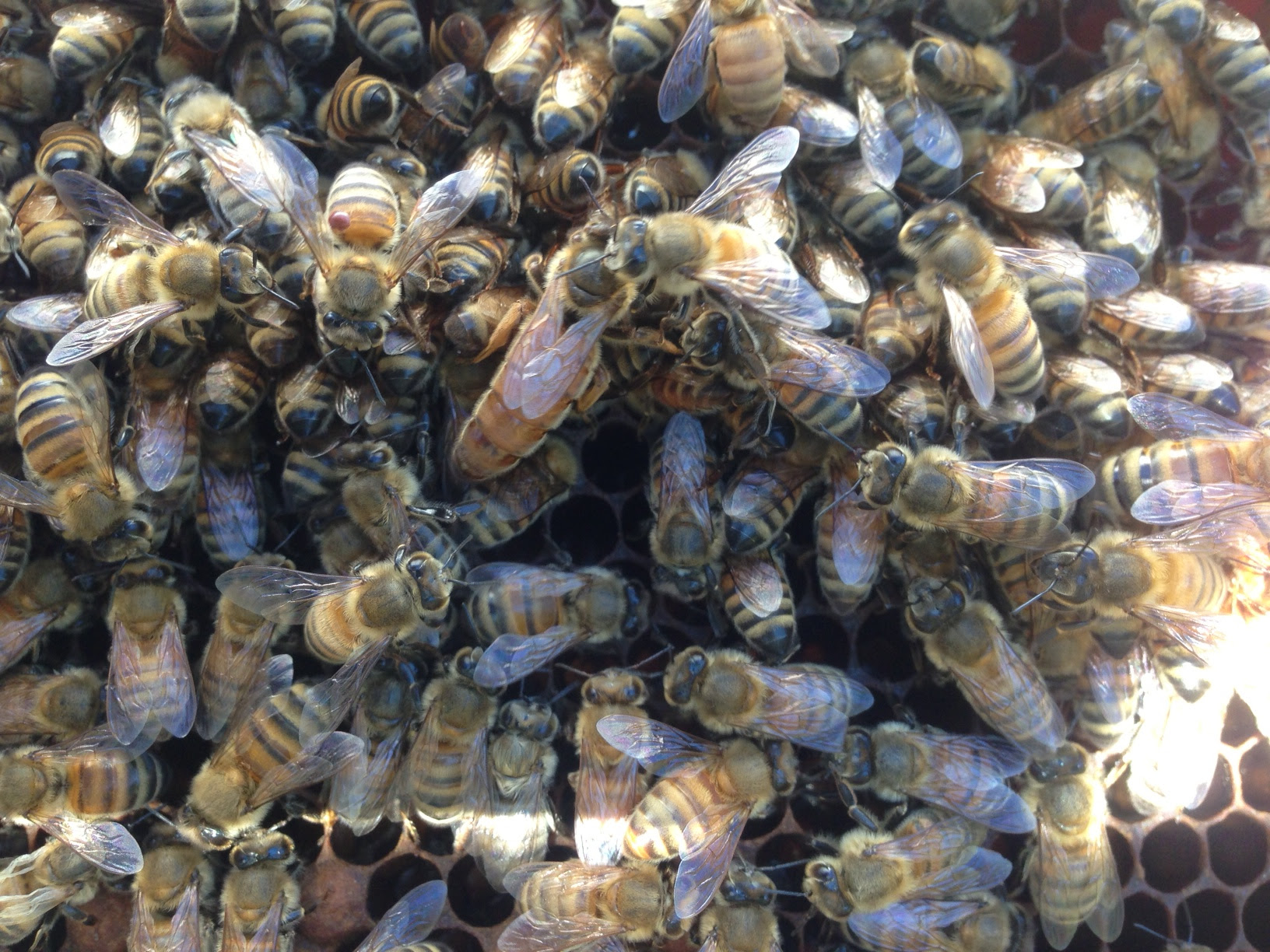 In April 2014, I found one of my swarm Nucs struggling.  I observed dead bees on the porch and saw a drone with severely damaged wings. The worker bees were wandering around like they were sick. I checked the drone with the damaged wings and found a varroa attached to it. I went into the hive and found more damaged drones and observed mites on some of the wandering sick bees.
Not wanting to use chemicals to treat my hives, I use what I consider to be natural options. These are the methods I use and my understanding of how they work.
Food grade mineral oil in a propane fogger – the mineral oil coats the bees and mites causing the bees to groom each other and the mites to fall off
Powdered sugar – the powdered sugar works in effect like the mineral oil
Sacrificial drone brood  – Varroa mites seem to prefer drone brood for the longer incubation time. Removing the capped drone brood removes a lot of mites.
This is my approach to treating this hive:
I used the powdered sugar method right then, and I cut out the drone brood. I put the frames from which I had cut the brood back into the hive. Maybe I shouldn't have done that but….my reasoning was that there were honey stores on the frames and the bees would eventually make natural comb from the wax already there (and make them with natural sized cells for drones). The next day, I treated with the mineral oil fog. I worried this was over-doing things a bit, but it is what it is. This hive struggled for a long time, but it did survive. Today, that hive is one of my strongest hives.
Fast forward to fall 2014. About the first of October, I took a hands-off approach after the honey harvest to allow the bees to take advantage of the awesome fall pollen/nectar flow that we had in Northeast Georgia. When I inspected again, I found three hives that weren't where I wanted them to be. I decided to close them up and give them a day or two and think about what I wanted to do about them.
When I inspect a hive, I am looking for eggs, larva, pollen, honey, etc. Oh, of course, I am looking for the queen, and when I find her, I like to take pictures! When I inspected the hives, I took three or four pictures of one of the queens with my cell phone.
I had my phone out a couple of nights ago and was zooming in on the queen when I noticed something horrible. Varroa mites riding on at least two of my bees. Two mights may not be an epidemic but they are two to many.
I confess to getting slack with treating my hives when I adopted the hands-off policy this year. I may have made things harder on my fuzzy friends for the winter. Thankfully though, I had already started treating with the MOF again before I saw the mites on those bees in the picture. It doesn't seem to be an epidemic at the moment, but I will definitely be keeping a close eye on things.
No two years are the same in a bee yard. I anxiously await the spring!
Related Products